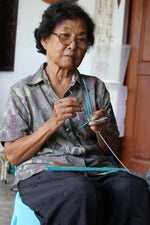 Marquet was born from the idea that everyone should have access to work that provides a sustainable living and promotes the longevity of ancient craftsmanship.
When Founder David Atlas was traveling through Southeast Asia on a post-college trip, he saw a need for helping artisans market and sell their products to the Western world. Living in remote regions of the country, many families have to make a tough choice – being with their families or moving to the city to earn a living.
In 2011, Marquet was created as a place where people can purchase gifts like those found in open-air markets around Southeast Asia. David would scour the markets, seeking beautifully crafted handmade products to resonated with Westerners. When David found a product he liked, he would visit the artisan group in person. Behind all our handmade products is a deep, personal relationship that David has cultivated over a decade.
By creating real partnerships with these artisans, Marquet has helped artisan families build a sustainable lifestyle. The company strives to use local labor for all projects, including product development, design, and photography.
Each year, Marquet makes contributions towards Kiva loans, Lao Disabled Women Development Center, Thailand Elephant Nature Park, and other local organizations like the US National Parks Services and UNICEF. All products are purchased under the Fair Trade Federation standards and Marquet is continually striving to increase artisan pay and benefits. 
While there are always more ways that fair trade businesses can strive to do more for their artisans, Marquet is proud of the impact the company has made on hundreds of artisans throughout Southeast Asia. This year, Marquet ornaments will be featured in Whole Foods nationwide.